Doctors & Staff
Meet the experienced and friendly doctors and staff who make In Focus Eyecare of Rockford the leading provider of vision care products and services in Rockford.
---
Mark Swan, OD, MEd, FAAO
Dr. Swan has been the eye doctor at this location since 2005, when it was called Rockford Vision Services. In 2010, Dr. Swan purchased the practice and renamed it In Focus Eyecare of Rockford. As an optometrist/owner he has been able to expand the eye care services that can be provided to patients and is now able to participate in several health insurance panels and vision plans.
Dr. Swan is also a professor at the Michigan College of Optometry, located at Ferris State University in Big Rapids, Mich., where he teaches pediatric and binocular vision in courses and clinics. He is also the Chief of the Optometry Service at Mercy Health – Saint Mary's Campus in Grand Rapids, Mich.
Dr. Swan has served the profession of optometry at the national level having been appointed to several volunteer and leadership positions in the American Optometric Association including the Aviation Vision Committee, Health Information Technology and Telemedicine Project Team, Faculty Relations Committee, InfantSEE state coordinator and the Research and Information Executive Committee. He has also served on the Accreditation Council on Optometric Education and with the Association of Schools and College of Optometry; Binocular Vision and Informatics special interest groups and the Association of Contact Lens Educators.
Within the State he has been active in the leadership structure of the Michigan Optometric Association having served on several committees, Children's Vision Care, Environmental Vision, Legislative, Medicaid and Industry Relations. He was elected to serve on the Board of Directors for seven years and was elected as President of the Michigan Optometric Association and the West Michigan Optometric Association. He also serves as a vision consultant for the Michigan Commission on Law Enforcement Standards, and the Department of Community Health Vision Screening Program. He is a member of the physicians Advisory Committee for the Kent County Community Health Department and the Michigan Department of Community Health. Dr. Swan was recognized by the Grand Rapids Lions Club as Visionary of the Year, 2008 and by the Michigan Optometric Association as Optometrist of the Year, 2009 and by Ferris State University as Distinguished Alumnus, 2010 and by the American Diabetes Association as their Healthcare Champion of the year in 2016.
He has lectured both nationally and internationally and has participated in several international vision care missions and serves as an editorial reviewer for the Journal of Optometric Education, Review of Optometry and the Michigan Optometrist.
Dr. Swan earned his doctorate degree in optometry at the Michigan College of Optometry at Ferris State University. He also earned a master's degree in reading disabilities at the University of California at Berkeley School of Education. Additionally, Dr. Swan is a fellow of the American Academy of Optometry (AAO).
---
Dr. Bruce Morgan
Dr. Morgan provides comprehensive vision care for our patients at In Focus Eyecare.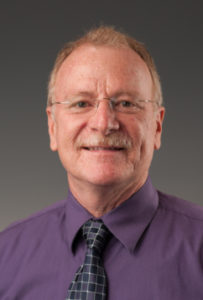 He has worked with us since 2018 and is accepting new patients as well as providing more appointment options for our established patients.
Dr. Morgan is also a Professor at the Michigan College of Optometry at Ferris State University.   Dr. Morgan graduated from Northeastern State University College of Optometry in 1987 and completed the residency in Cornea and Contact Lenses at the University of Missouri-St. Louis in 1989. He has taught in the areas of Ophthalmic Optics, Contact Lenses and Ocular Disease.
Dr. Morgan's clinical and research interests include gas-permeable contact lenses, keratoconus, and corneal reshaping. Dr. Morgan has lectured both nationally and internationally in the area of contact lenses and anterior segment disease and is past president of the Association of Contact Lens Educators.
---
 
Leigh Ann Walker – Office Manager
---